LISTEN TO THE AUDIO INTERVIEW:
Podcast: Play in new window | Download
Subscribe: Apple Podcasts | RSS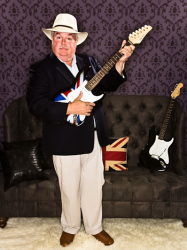 Scott Bourne is the founder of PhotoFocus.com. He started the site on November 2, 1998. He's been involved with photography for more than four decades and is an internationally-recognized thought leader and artist. His work has appeared in more than 200 publications and he's received hundreds of industry awards for his photography.
Today we cover quite a bit, such as learning from failure, finding your target audience to communicate with, and adopting the mindset of truly helping your clients.
I want to give a huge thank you to Scott for taking the time to chat with us! I consider myself as much a student as the listening audience, and appreciate him sharing his extensive knowledge.
---
"People don't buy what you do…they buy why you do it."  -Scott
---
Top 3 Tips From the Interview:
1. Find your target audience.

It's your target audience that you should be marketing to. Find where they are "hang out" both online and offline, and go there. Get to know their needs and pains. Talking to the right audience in the right way means more
business for you!
2. Be willing to fail.

And then pick yourself up and get back at it! Learn from it, and develop a thick skin. You'll need one.
3. Learn how to sell (or hire someone to do it for you).

As a professional photographer, your job is roughly 80% sales, whether you like it or not. And this is true for anyone, whether you're just starting out or have been in business for years. So if you're intimidated about "selling" yourself to potential clients, than go into the interaction with the mindset that you are there to help them solve a problem (which you are), and not that you're trying to be sleazy sales person (which you're not).
---
Scott Can Be Found At:
» Photofocus.com: the site Scott founded. Education and inspiration for visual storytellers

» Connect with Scott on Twitter

» WeShootFuji.com: If you're a Fuji user, this is the site for you.

Scott's Recommended Resources

» Going Pro: How to Make the Leap from Aspiring to Professional Photographer: Written by Scott Bourne and Skip Cohen, this is a wonderful book to help you make the transition from aspiring photographer to your chosen genre of professional photographer.