LISTEN TO THE AUDIO INTERVIEW:
Podcast: Play in new window | Download
Subscribe: Apple Podcasts | RSS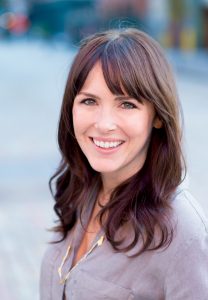 Angela Popplewell is a founder and the Executive Director for 100cameras, a NGO that teaches students how to share their perspectives through photography and then sells their images, empowering them to become change makers by providing much needed educational, lifeline, and medical supplies for themselves and other community members.
She has lived and worked abroad with multiple educational and community development programs located in places such as Romania and India. These experiences along with others redirected her passion early on to begin working with kids, the power of storytelling, and local community development initiatives worldwide. Prior to 100cameras, she was one of charity:water's first interns and Director of Development at New Life of NYC, an inner-city community center in Manhattan. Popplewell currently lives in Brooklyn, NY with her husband, Ty, and their adorable newborn son, Theodore Brooks.
I want to give a huge thank you to Angela for taking the time to chat with us! I consider myself as much a student as the listening audience, and appreciate her sharing her extensive knowledge with us.
In this interview, we discuss:
The power or incorporating a "giving back" plan into your photography business plan.
Planning which organizations/charities you will be involved with well in advance
Cold-calling
The importance of self-promotion
Getting a "No" is not the worst thing in the world
It's an art of balancing professionalism and personality.
How to stand out with a unique personality.
Promised Links
Angela Can Be Found At:

»  100Cameras.org: The organization that teaches students how to share their perspectives through photography