Podcast: Play in new window | Download
Subscribe: Apple Podcasts | RSS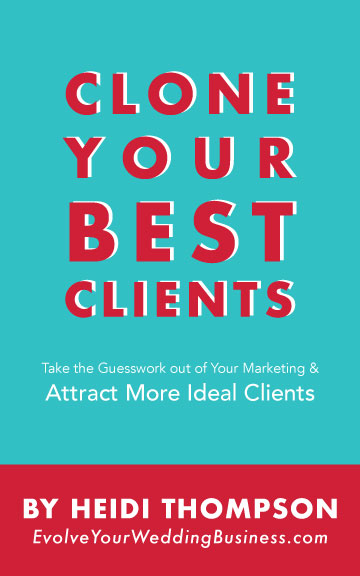 Heidi Thompson joins us again on the show. She is the founder of Evolve Your Wedding Business where she specializes in business and marketing strategy for wedding professionals. In today's interview, Heidi helps us begin to identify the steps to cloning your best photography clients, and how to take the guess work out of your marketing efforts.
In this interview, we discuss:
Identifying who your perfect client is, what that person values, and what that person connects with
Going directly to the source: speaking to your best clients
Learning how they are as a person is much more important than demographics
Focusing on the needs of your clients instead of yourself
Need help identifying your perfect clients?
Heidi's book will help you with just that: "Clone Your Best Clients: How to Take the Guesswork out of Your Marketing and Attract More Ideal Clients
What if you could clone your best clients and work with them over and over again? Imagine how happy, fulfilled, and profitable you'd be if you could work with more of these ideal clients who appreciate and respect your work and don't object to your prices. Sounds magical, doesn't it? Clone Your Best Clients can help you identify, find, and attract your ideal clients.
This book introduces readers to the "Clone Your Best Clients System," a process creative entrepreneurs and wedding business owners use to understand their very best clients and attract more clients just like them. You'll learn how to identify the clients you love to work with and create a marketing plan unique to your business that consistently attracts more of your ideal clients. If you want to work with more of your ideal clients and take the guesswork out of your marketing, this book is for you.
The Kindle version is $0.99 from May 9th-12th 2017 and will increase to $3.99 after that. The paperback version is $14.99
Bonus Alert! Purchase the book by 11:59pm PST on May 23rd, 2017 and send receipt to [email protected] and you'll be able to join in and ask your questions on an exclusive live Q&A with Heidi.