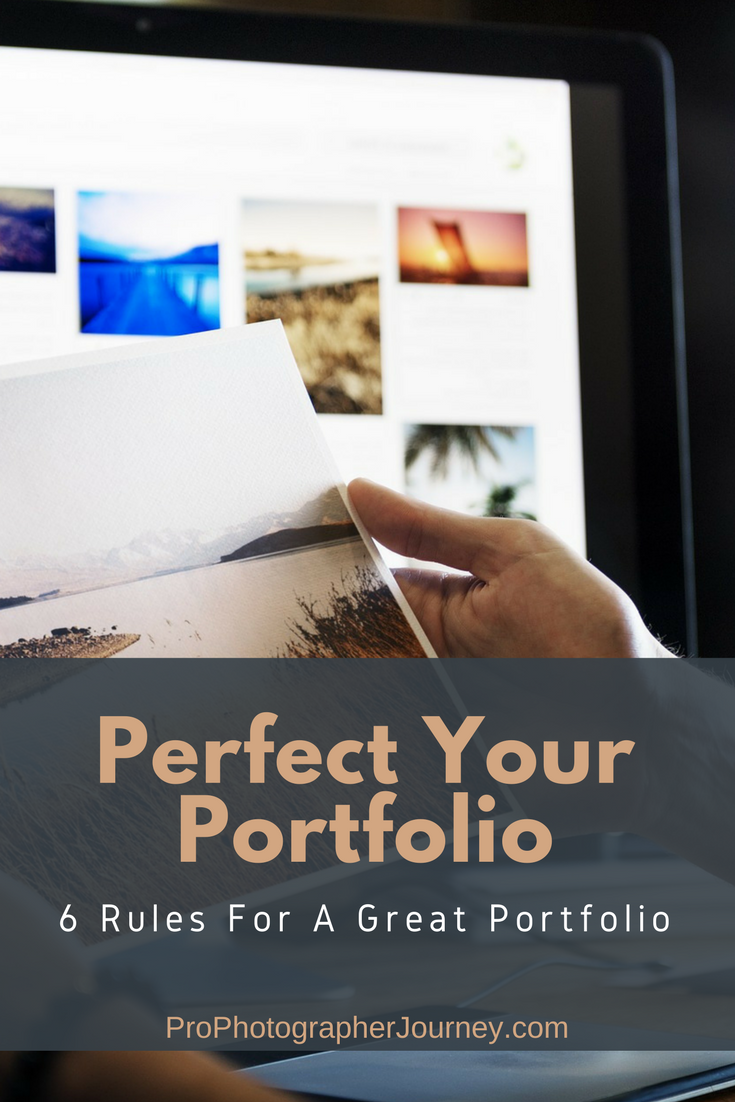 Taking great images is good, but showing them off is even better. Making your portfolio pop is basically the equivalent to sharpening your resume. You have to do it when you get new work and you have to do it in order to score the best jobs. Not sure where to start? Well, these six tips will help give you some ideas and direction.
1. Utilize the Size
When you post images on your website, you want them to be as large as possible. Full screen is fuller exposure. Your photos are much more likely to stand out and have maximum impact on the viewers. It catches attention, draws them in, and keep them there flipping through the other images that are equally as captivating. Try your hardest to find a setting or a site add-on that will allow for your images to be displayed as large as possible. Plus, whoever is visiting is there to see the pictures anyway, right?
2. Organize Your Photos
One problem we see in various photographers- both new and old- is if you have various niches, make sure to divide them into appropriate galleries. Headshots here, senior pictures here, family portraits here, and on and on. No one wants to be asking themselves if they want to hire you for a wedding based on your senior portraits in the gallery. Make it easy on the readers. They are lazy and need to be fed the important material with as much ease as possible.
3. Curate Your Work
You have to make a rule for yourself. Only the best of the best make it to the display gallery. You will be tempted to put up all of the amazing images from one shoot, it's true. We've all been there. We get too attached and too emotionally involved and we lean toward those images to include in the gallery. But if it doesn't fit in with the same quality of the others then it has to be cut.
4. Find A Friend
Get a second opinion. Detailed friends, maybe even another photographer, but anyone with a solid opinion is going to help you select the best of the best. Our own vision is clouded by what we know about the story behind each photo but get a second opinion, a fresh set of eyes to determine which need to be on the site. A bystander posing as a potential client will help you choose the most impactful pieces which are going to bring you the most site traffic and hopefully traffic in front of your camera as well.
5. Repetition
Don't put all the photos from one amazing shoot all on the site. It's tough, we know. We all have that incredible shoot that we just cannot stop drooling over, but just because we know how amazing it is doesn't mean everyone else will.  A gallery is a sneak peek of your entire work and your entire portfolio. No one wants to look at that same baby ten times no matter how cute they are. Taking care to only repeat photos once or twice will add enough variety to your image while still showcasing the best ones.
6. Update Regularly
Yes, yet another job that a photographer does need to make time for. Freshen up your portfolio and gallery every now and again. As aforementioned, it's a lot like a resume. You want to put your best foot forward where a lot of your clients are going to be influenced by you- which is on your own site. Once a month or even once a quarter, take stock of old images, take out the outdated ones and slide in some new, fresh, and probably better pieces. Your technique will improve with experience so be sure to show your growth and changes.
This is another one of those items on the never-ending list of things that photographers need to remember that will take some planning and make you evaluate your time. All of your time spent photographing will do nothing for you if you are not displaying the best and most recent work you have created.
Taking your own portfolio lightly will never turn out well. This is a visual representation of your entire business. That's a big deal. Take a little time, etch it into your schedule to make sure that this is you putting your best self forward.