LISTEN TO THE AUDIO INTERVIEW:
Podcast: Play in new window | Download
Subscribe: Apple Podcasts | RSS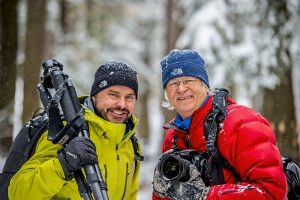 Todd and Brad Reed are a father-son outdoor photography team based in Ludington, Michigan. Todd has been recording Michigan scenes for over 45 years. Twenty-three of those years Todd spent as a photojournalist for the Ludington Daily News, where he won dozens of industry awards for his photos portraying the beauty and telling the stories of everyday life in small towns and rural areas.
Brad's journey as a photographer started as a young boy. He jumped at every chance to carry his father's gear on photo shoots throughout the region. Without a camera in his hand, Brad practiced seeing the world in photographs and learned that extraordinary photography requires chasing the light and capturing the defining moment.
Todd and Brad have a simple approach to photography. They choose subjects that touch them in emotional ways, and strive to convey their emotions through the photographs they make. They are both known for saying that good photography is all about feeling. To see and appreciate a scene in the natural world is one thing; the artists' challenge is to capture visually the emotions of that scene and that moment. It is simply a matter of being present at those rare moments and letting the heart guide the composition.
I want to give a huge thank you to Todd for taking the time to chat with us! I consider myself as much a student as the listening audience, and appreciate him sharing his extensive knowledge.
In this interview, we discuss the followings topics:
Not being afraid to learn new things, be it software or equipment. You learn by doing.
The line between reality and non-reality in landscape photography.
How photography is all about "feeling".
It's all about the artist behind the gear.
Setting 1 and 5 year goals.
Having multiple streams of revenue.
Saying "no" to clients that are not a good fit for your expertise is often a good move.
Making changes as you go along, as opposed to waiting too long.
Todd and Brad Can Be Found At: