LISTEN TO THE AUDIO INTERVIEW:
Podcast: Play in new window | Download
Subscribe: Apple Podcasts | RSS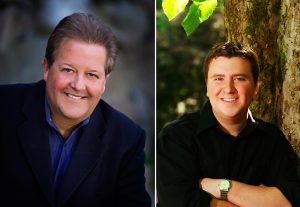 Bruce and Josh Hudson are a dynamic father-son photography business duo. Bruce is a nationally recognized professional photographer, and has photographed presidents, governors, many celebrities and sports stars, such as future Baseball Hall of Famers Randy Johnson and Omar Vasquez, the late music legend Marvin Hamlish, Financial Guru Dave Ramsey, and nighttime radio personality Delilah and her family. His son, Josh literally grew up around the photography business and entrepreneurship, and now manages the day to day operations and the marketing at his family's studio, Hudson's Portrait Design. He also started a social media management and marketing consulting business called Hudson Solutions, which caters to the needs of small to medium sized businesses in all industries! A father of 3, & husband, Josh stays pretty busy with all of his endeavors! His passion for helping photographers navigate the confusing and ever-changing realm of social media marketing comes through during every one of his exciting programs, web summits, and episodes of Photo Entrepreneur TV!
I want to give a huge thank you to both Bruce and Josh for taking the time to chat with us! I consider myself as much a student as the listening audience, and appreciate them sharing their extensive knowledge with us.
In this interview, we discuss:
Knowing the business side is as important as knowing how to take great photographs
Hyper-targeting your clients
Correctly branding yourself as the type of photographer you want to be
A great quote from Josh: "If you don't define yourself, the consumer will."
Establishing your value from the beginning
---
Connect with Bruce and Josh:
Save
Save
Save
Save
Save
Save
Save
Save
Save
Save
Save
Save
Save