LISTEN TO THE AUDIO INTERVIEW:
Podcast: Play in new window | Download
Subscribe: Apple Podcasts | RSS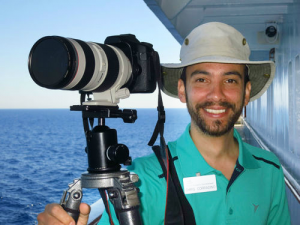 Chris Corradino is a professional photographer and head student mentor at the New York Institute of Photography. His work has been published internationally with credits including USA Today, The Wall Street Journal, New York Newsday, and National Geographic Online. For more, visit online at
www.christography.com
.
Today, Chris and I chat about taking time for yourself, copyrighting your work, and constantly practicing your craft.


I want to give a huge thank you to Chris for taking the time to chat with us! I consider myself as much a student as the listening audience, and appreciate him sharing his extensive knowledge.
---
"There's you and your camera. The limitations in your photography are within yourself, for what we see is what we are." -Ernst Haas
---
Top 3 Tips From the Interview:
1. It's important to take time for yourself.

Ever get to the point where you're burned out? Yes, me too. To help prevent this, you should carve out time for yourself. Chris takes one day and does other activities in order to rejuvenate himself. Throughout the week, he also listens to music and engages in other arts.
Make time to do what refreshes you. For me, it's reading fiction, and taking walks. How do you rejuvenate? Do that, and know that it can actually help you show up better for your business in the long run.
2. Copyright your work by registering it with Copyright.gov.

While many photographers are careful about watermarking their work, we should also be officially registering our photos. Chris does it every couple of months, and uploads a handful of photos at a time.

You can register your work with the copyright office at Copyright.gov.
3. Constantly practice your craft.

Even when you don't have a gig lined up, you should still pick up your camera and practice your skills.

---
Chris Can Be Found At:
» PhotoMentorNYC.com: Chris's photography website.
Chris's Recommended Resources
» The New York Institute of Photography (NYIP): Choose from 9 online courses based on your skill level and area of interest! The New York Institute of Photography has been in business over 100 years (est. 1910). Study anytime, anywhere, at your own pace.