LISTEN TO THE AUDIO INTERVIEW:
Podcast: Play in new window | Download
Subscribe: Apple Podcasts | RSS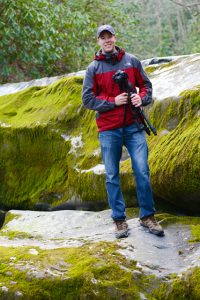 Photographer David Johnston is a landscape, adventure, and humanitarian photographer. He is a renowned landscape, adventure, and humanitarian photographer and educator from the beautiful state of Tennessee in the United States. Photographing incredible light and rarely seen moments are what drives David to keep capturing nature at its best. When David is not shooting, he's writing and teaching photography to the masses on his website and podcast called Photography Roundtable. It's his passion for spreading the joy of photography that helps him continue to interview other professionals and deliver helpful tips for others to improve their skills.
I want to give a huge thank you to David for taking the time to chat with us! I consider myself as much a student as the listening audience, and appreciate him sharing his extensive knowledge.
In this interview, we discuss:
The "Ten Before Ten" marketing principle
Why it's important to communicate your WHY to your pre- and current clients.
The importance of educating yourself about how to market yourself.
Backing up your work.
Why we need to check our egos at the door.
---
David Can Be Found At:
» DavidJohnstonart.com: David's photography website
» Photography Round Table: David's photography podcast
» David's Book "The Landscape Photography Handbook" is coming out soon!
David's Recommended Resources
» Guerilla Marketing: Easy and Inexpensive Strategies for Making Big Profits from Your Small Business, by Jary Conrad Levinson

» Jab, Jab, Jab, Right Hook: How to Tell Your Story in a Noisy Social World, by Gary Vaynerchuk

» The many books by author Jon Acuff is extremely helpful.