Podcast: Play in new window | Download
Subscribe: Apple Podcasts | RSS
In Photography Coach Bernie Griffiths' words:
"My name is Bernie Griffiths and I have run a highly successful photography business over the last forty years. I have a deep well of knowledge available and I want to pass on everything I know to the next generation of photographers…
I offer something few are able to in this day and age. In the year 2008 when the recession hit and many businesses started going under, mine remained stable throughout. I offer you not only four decades of experience but the secret ingredient to longevity."
From the Pro Photographer Journey Podcast:
We want to give a huge thank you to Bernie for taking the time to chat with us! We consider ourselves students as the listening audience, and appreciate him sharing his extensive knowledge with us.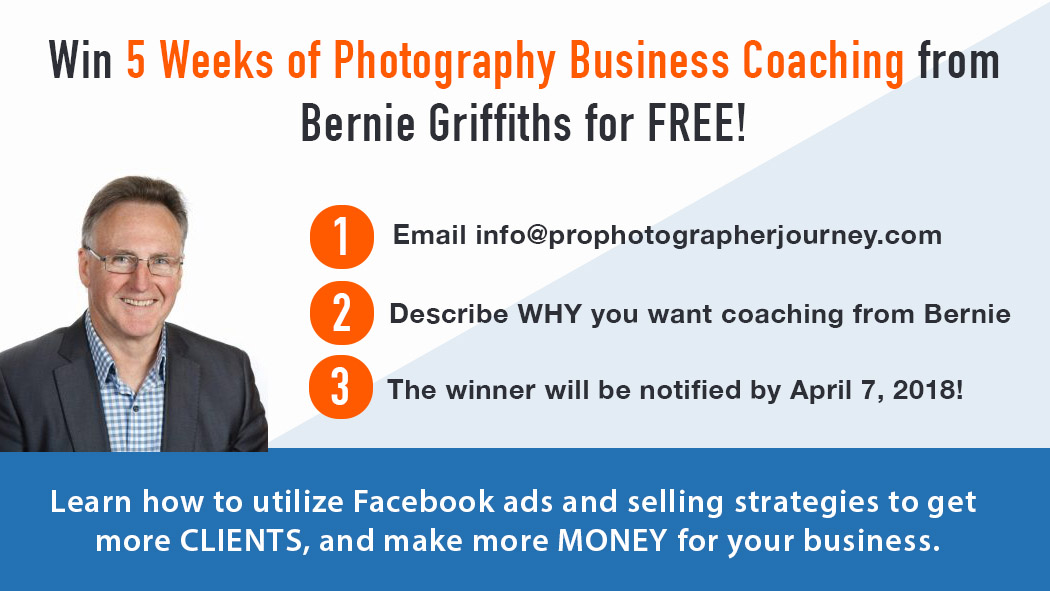 Announcing Our 5 Week Challenge: Win 5 Weeks of Photography Business Coaching From Bernie Griffiths for FREE!
Bernie and I thought it would be a great idea to choose a photographer from the audience who would like to win 5 Weeks of FREE coaching sessions on how to utilize Facebook ads and selling strategies to get more photography clients, and ultimately make more money for your business.
He's agreed to do it completely free, even though he normally charges for this valuable service. This is your chance to work with renowned photography business coach Bernie Griffiths.
The Winner Will Receive…
The winner will receive a one hour Skype call a week for 5 weeks as Bernie coaches you in detail how to bring your photography business to the next level. And In five weeks, Bernie will teach you how to get clients and makes sales. This translates to dollars for your business.
We decided to keep the process simple: We'll be taking entries from March 29 to April 5, and will choose the person with the best answer.
If you want to be considered to win, simply send me an email at [email protected], and tell me WHY you want to learn Facebook ads for your business. 
In this interview, we discuss the first 4 of the Big 8 Blockers, and how to OVERCOME them. In particular, we discuss:
Fear

Change

Analysis Paralysis

Time
Bernie can be found at: